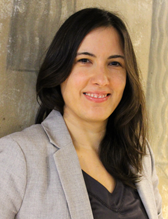 Jelena Pavlović, PhD
senior scientific associate
Institute for Educational Research
Belgrade, Serbia
Biography
Jelena Pavlović holds a PhD from the Faculty of Philosophy, Department of Psychology, University of Belgrade. The title of her doctoral thesis was "Identity Construction in the Discourse of the Continual Professional Education". She is a co-author of the thematic journal "Theory and Practice of Teachers' Professional Development", as well as of many papers dealing with the coaching psychology. As a representative of the Institute for Educational Research, Jelena Pavlović is a member of the international advisory board of the Centre for Coaching Psychology Research of the International Society for Coaching Psychology (ISCP). She was a visiting lecturer at the Department of Psychology, Faculty of Philosophy in Belgrade, Faculty for Media and Communications, Petnica Research Centre, and at the EBS University in Germany. She is a member of the editorial board of the Journal of Constructivist Psychology and of the International Mentoring and Coaching Journal.
Five references:
Pavlović, J. (in press). Guest Editor of the Special Issue of Journal of Constructivist Psychology: Embracing Innovation: New Voices in Constructivist Psychology. Journal of Constructivist Psychology.
Pavlović, & D. Stojnov (2016). Personal construct coaching. In Winter, D. & Reed, N. (Eds.), SAGE Handbook of Personal Construct Psychology (320-331). London: Sage.
Pavlović, J. (2015). Imagining possible futures: Scenarios for constructivist psychology. In Raskin, J., Bridges, S. & Kahn, J. (Eds.), Studies in Meaning (223-248). New York: Pace University Press.
Pavlović, J., Maksić, S. & B. Bodroža (2013). Implicit Individualism in teachers' theories of creativity: Through the "Four P's" looking glass. International Journal of Creativity and Problem Solving 23(1), 39-57.
Stojnov, D. & J. Pavlovic (2010). An invitation to personal construct coaching: From personal construct therapy to personal construct coaching. International Coaching Psychology Review 5 (2), 129-139.
Description of the plenary lecture
Innovative approaches to professional development of preschool and primary school teachers
We present a growth model of preschool and primary school teachers' professional development as a continuous transformational process in which changing teachers' assumptions, implicit theories and beliefs is a pathway to changing their professional practice. The growth model is based on an integration of theories of learning and theories of change. In this model, the process of learning is a process of construing experience, closely connected to personal meaning making. The approach is rooted in Dewey's views of education as reconstruction, as well as more contemporary perspectives of constructivist psychology and reflective practice. As an illustration of the growth model, we will present team coaching and a case of an accredited teacher development program. In conclusion, we will discuss the implications of growth model for improving the preschool and primary school teachers' professional development in Serbia.